COLORED CLAY WORKSHOPS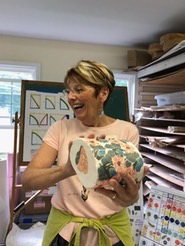 My workshops are excellent for all levels of clay experience. Whether you are fairly new or very experienced, you will find yourself challenged and excited by your discovery of the incredible options colored clays and slips will add to your work.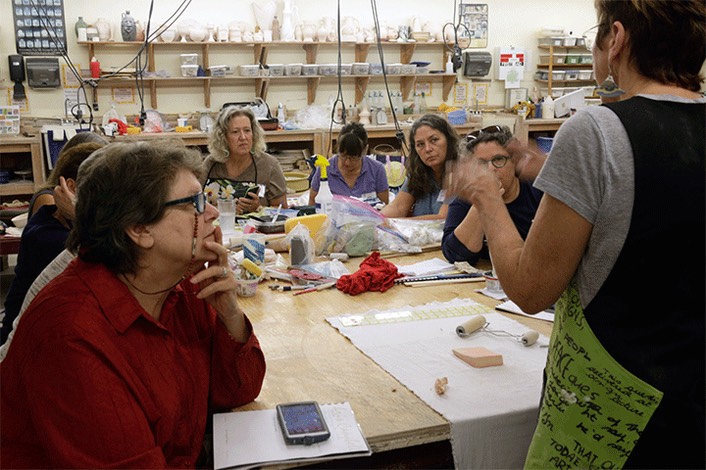 CLICK here to visit a recent workshop
CLICK   here to find an upcoming Workshop
CLICK   here for your Workshop Supply List
Learning to use colored clays and slips is fast and fun. You will leave the class  abuzz with your own ideas for pushing your work further into color, pattern and surface design.
Judith Skinner invented the Skinner Blend method for use with polymer clays, but I have found it translates quite well to use with earthen clays.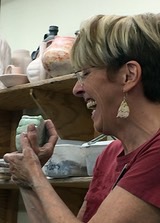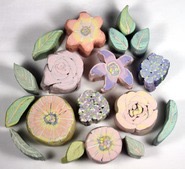 I teach the Skinner method of coloring clay,  creating secondary colors, fading colors, creating canes and patterns, then using these patterns in Artwork. 
John Campbell Folk School - May 2019
Sugar Maples Center for the Arts - July/August 2018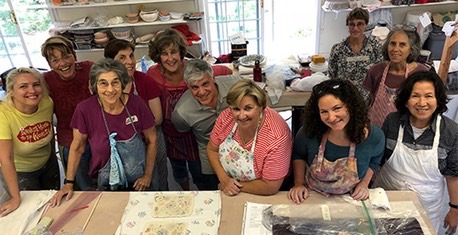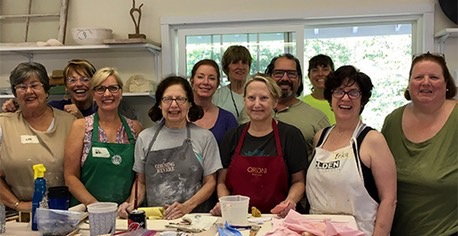 "Yours is a fun class & your teaching style encourages exploration & gives students permission to play!" … Richard Lopez
Spruill Center for the Arts - September 2017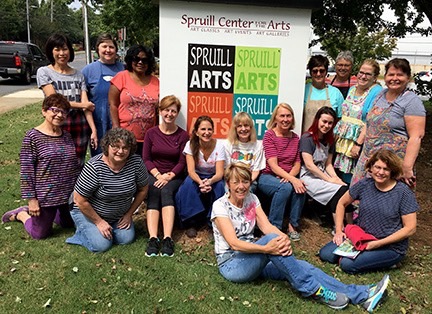 I can't even begin to tell you how much I enjoyed your class last week. I learned so much and I'm dreaming of projects every night. You did such an amazing job with prep and the demos and everything else. Your passion for colored clay is wonderful.  Thank you! Tracy Simmons
John C Campbell Folk School Class - May 2017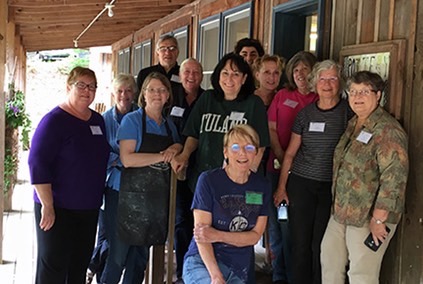 TOUCHSTONE Center for Crafts - July 2015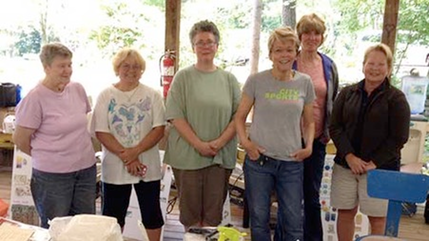 Naples, Florida - Spring 2014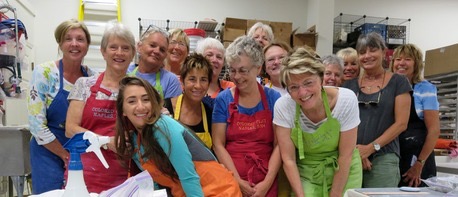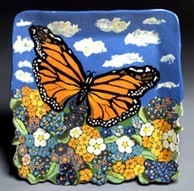 "HOW MUCH CAN YOU LEARN IN JUST ONE WORKSHOP?" 
 FOLLOW THIS LINK TO BE AS IMPRESSED AS I AM BY MY STUDENTS … 

CLICK here to see the work of my former students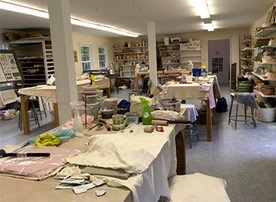 FACILITY REQUIREMENTS
The main requirement is worktable space for students similar to any hand building workshop. 
I do require a kiln and at least one double roller slab roller for each  six students.
"It was a such a pleasure to work with you and to have you share your expertise here this weekend. What a well organized workshop! I am enjoying hearing positive student comments. Not everyone has so much patience. Thank you."  Analia Howard, Claymakers, Durham NC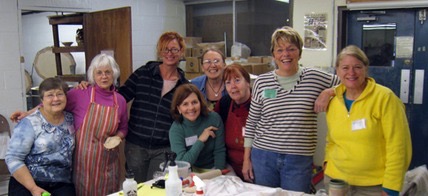 "THANK YOU for a delightful class .You are a wonderful instructor - patient, knowledgeable, creative and fun." Nancy Germond  
" When I signed up for the workshop, I knew I would learn something useful, but didn't really think I would want to use your techniques in my own work. All I've done since then is think about what patterns I can make and how to use them." Carmela Picone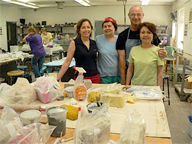 " WOW!" For those of you who missed Chris Campbell's Colored Clay Workshop, take it if you have another opportunity ... Chris did a fantastic job of explaining her technique of coloring the clay.She was very free with her knowledge in all areas of pottery as well as with her own techniques and strongly encouraged us to use these methods in our own work. The workshop was made even more enjoyable by the fact that Chris obviously enjoyed teaching."  CDA, Norfolk VA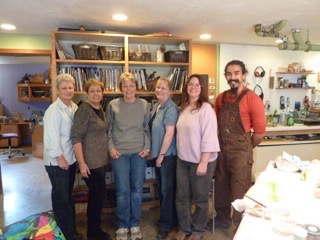 Here is the happy crew from my workshop in Snohomish, WA.
They just went wild with design ideas ... so much FUN!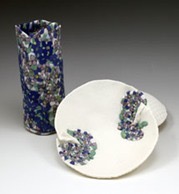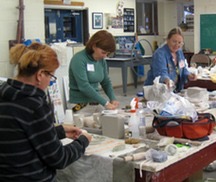 "I was swimming laps yesterday and the sunlight on the bottom of the pool looked like murrinis to me. They are everywhere! Thanks for a week of non-stop information and inspiration"  Eleanor Broaded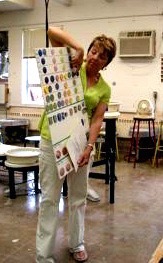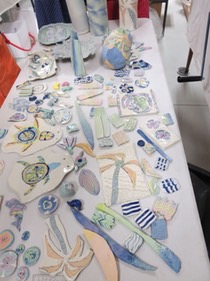 "Thank you for a great experience this weekend.  Your passion and your knowledge shined through.  I can't wait to go the studio and try some options.  I also appreciated the atmosphere of fun and learning you created during the workshop."  Anne Halligan-Luca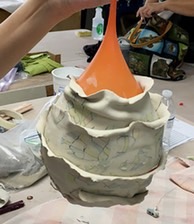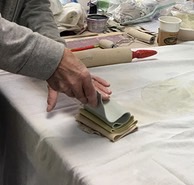 "I wanted to email you to tell you how wonderful the workshop was!  I am so excited about the newpossibilities that are now open to me. I am now confident about using color in my porcelain jewelry. The workshop was just exactly what I needed to get the creative juices flowing in that new direction."     Barbara Tilley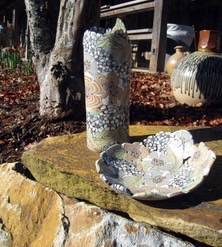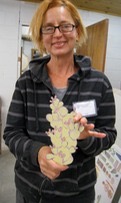 WORKSHOP  REFERENCES
Sugar Maples Center for Crafts   -   Susan Beecher 917-658-5288
Rockingham Community College   -   Patricia Harden 336-342-4261
Ceramic Designers Association   -  Susan Yager 757-595-3185
Sawtooth Center for Visual Art   -   Warren Moyer, 336-723-7395
John C. Campbell Folk School   -   Mike Lalonde 828-837-2775
Clay Art Center, Port Chester    -   Leigh Taylor Mickelson 914-937-2047  
Touchstone Center for Crafts  - Meghan Feather 724-329-1370
Art at the Ranch  -  Randi Harper 425-870-7850
Claymakers, Durham - Analia Howard 919-530-8355
Annabelle Johnson Pottery - Annabelle Johnson 239-598-2529
Pinecroft Centre for the Arts - Tony Clennell 289-442-7750
Spruill Center for the Arts - Ken Horvath 770-394-3447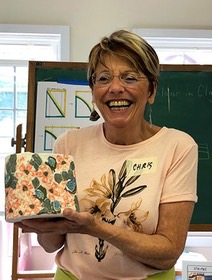 INSTRUCTOR WILL PROVIDE
Colored Clay is available for sale.
Cut off wire materials included
Illustrated Workbook included
+    +    +    +    +    +    +    +    +
Photos courtesy of Sally McCollum, Eve Butts, Amy Wandless, Kathie Breckenridge and Randi Harper, Patsy Granstrom, Uhna Hill and Heidi McKenzie.
IF YOU WOULD LIKE TO LEARN MORE ABOUT COLORING CLAY, ASK YOUR FAVORITE ART CENTER TO SPONSOR MY WORKSHOP