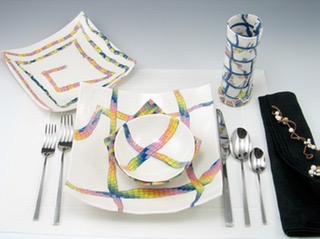 Every year the Louisville Visual Art Association hosts DinnerWorks, a five week celebration of exquisite visual art, innovative design, fine food and community spirit.
DinnerWorks invites 14 of the country's most talented visual artists to submit dinnerware designs then displays them on dinner table artistry by Kentuckiana's most creative design teams.
I began by designing a set of dishes, then creating prototypes and support forms.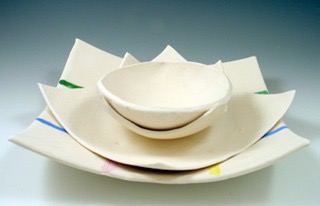 This is the prototype set made from a rough clay body. The actual dishes will be created with my custom colored Southern Ice Porcelain.
This image shows salad plates drying in their own firing support forms. They are built in the form and stay safely within it until they have been high fired.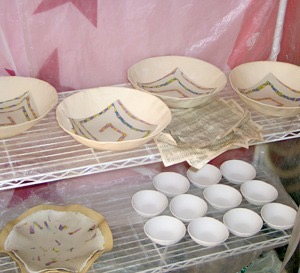 On the shelf below you can see the dessert bowls.
After firing the colors are much more intense.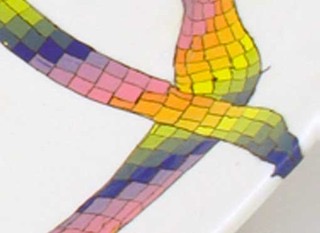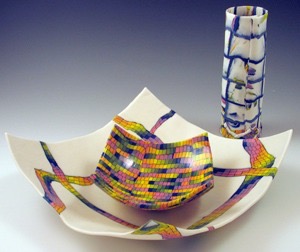 In order to protect the surface I added a sheen of glaze, but
I decided to glaze only one side of the dishes. I wanted people to be able to touch the luscious, pure porcelain ... it is as soft and smooth as satin.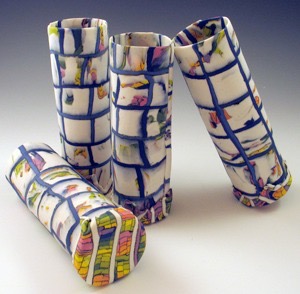 These are the drinking cups to match the set.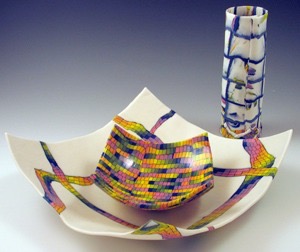 Three pieces of the set make quite a dramatic statement.
The slowest part of this whole process is drying. It takes weeks to dry these forms so they do not crack.
When you think about how many connected pieces there are in each pattern, it is not surprising they need so much attention..
Here is the finished Dinnerware. As you can see the colors are very vibrant and each piece co-ordinates beautifully.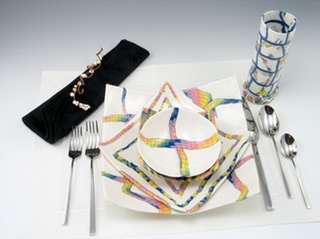 Here are some vases created for the tables.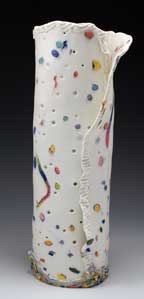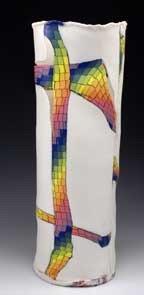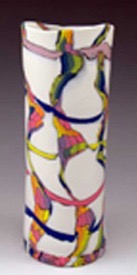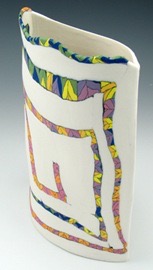 ** CLICK HERE ** IF YOU WANT TO LEARN EVERYTHING ABOUT COLORED CLAY, TAKE MY FABULOUS ONLINE WORKSHOP