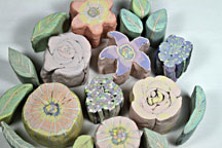 You can create any type of design using colored clay. I have made everything from skyscrapers to mythical dragons using variations of basic cane techniques that I teach in my workshops. You can easily adapt patterns from versions shown on the Internet polymer clay sites or books. I encourage you to Google "polymer clay canes" or "Skinner Blends" to find a lot of great ideas. I use thick slips or a light spritz of water to make my canes stick together.

What is a CANE? A cane is a tube of pattern made to any size or shape. Like a loaf of bread, you can cut it into slices to use as decoration on your work or roll them together to make a larger image.
Most cane slices look alike, but not identical. If you plan it correctly, every slice can also be different colors of the same pattern. The possibilities are as endless as your imagination.
Examine this piece below and note that every element of the design is a unique cane or small loaf of patterned colored clay. The flowers, the roofs, the roads, the mall and the house bodies are all made, sliced and re-assembeld.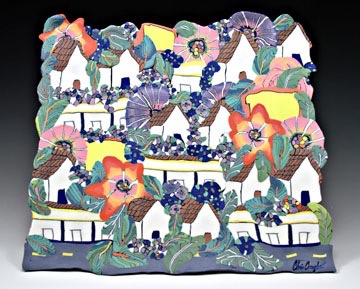 Here is one way to create a flower cane from a strip of colored clay.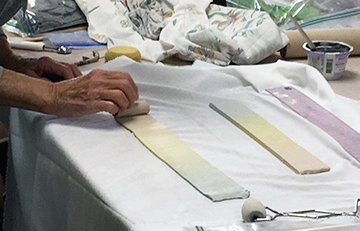 Roll out the strip as thin as you like. Give it a light spritz of water and roll it up. Sometimes I place a small coil to begin the roll and thus create a core that could be the center of your flower. This is a very basic starting point called the "Bullseye Cane".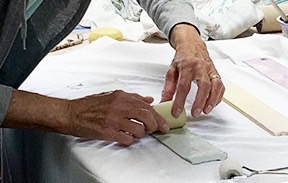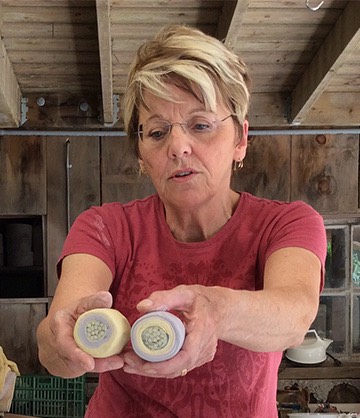 The canes look very different depending on which end of the blended clay you start from as seen in these image.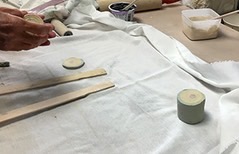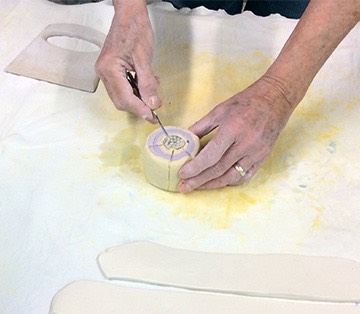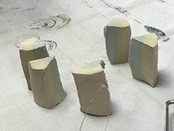 Slice the resulting cane into segments that will be shaped into petals.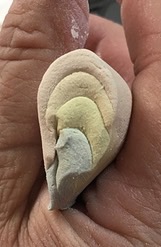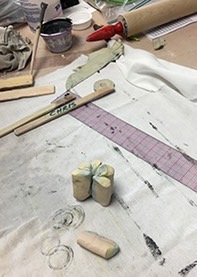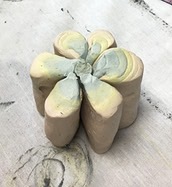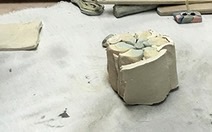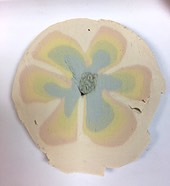 In order to transport or save your lovely work, I always suggest wrapping the design in white clay. You can see in the slice above that it is surrounded by white clay. Its easy to wrap it and easy to slice away the white if you don't want it in the finished piece.
You can also use slip instead of water to get an interesting pattern in your flowers or patterns.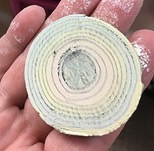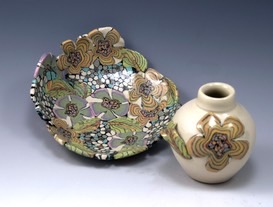 Here is a fun, new cane I call the friendship bracelet. It was an experiment done by Richard Lopez in one of my workshops. It is easy and can be altered in many ways.
The same applies below with tiny canes making lovely violet plates.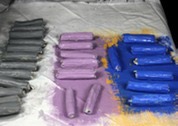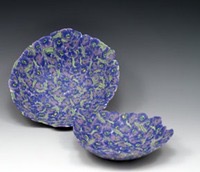 … or your can roll a a thin slice of clay around a few of these extruded coils to create a center for your flower …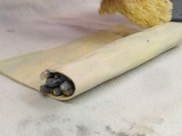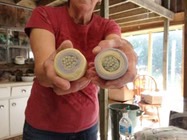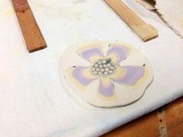 You can also use them individually to decorate plain wares.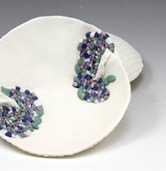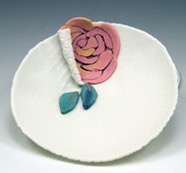 A recommended way to store your patterns is to wrap them in a damp cloth ( I use torn up old T-shirts ) then wrap in plastic and store in a plastic bag or container. You can fire a small sample to keep with the cane for easy identification.

PROBLEMS? Check out the Troubleshooting area

IF YOU WOULD LIKE TO LEARN MORE ABOUT COLORING CLAY ... ASK YOUR FAVORITE ART CENTER TO SPONSOR MY WORKSHOP.