I began taking pottery classes in Atlanta, Georgia in 1988. Although I enjoyed most aspects of clay, the possibilities of colored clay intrigued me. I moved to Raleigh, NC in 1991. There I attended a workshop on colored clay taught by Jane Peiser, a fabulous colored clay artist.  I was totally hooked! 
I have spent all the years since that week immersed in the endless possibilities of color in porcelain.
MY LIFE IN COLOR
As a young child I sat for hours playing under my grandmother's treadle sewing machine as she made quilts. That is where I got my love of pattern and quilt design. She was not trained in any formal way artistically, but her eye for color and pattern placement was superb.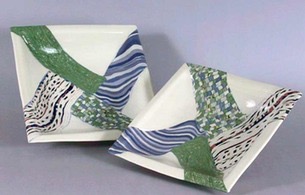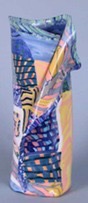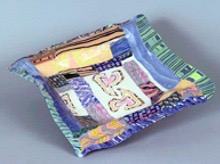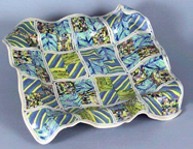 For over 12 years I supported my studio by designing Handmade Ornaments for various Galleries around the world … as well as for Holiday giving. I created new designs each year.  
This work formed a strong foundation for my later work. Pattern building, lamination, inset work … I learned all these techniques from building my Ornaments.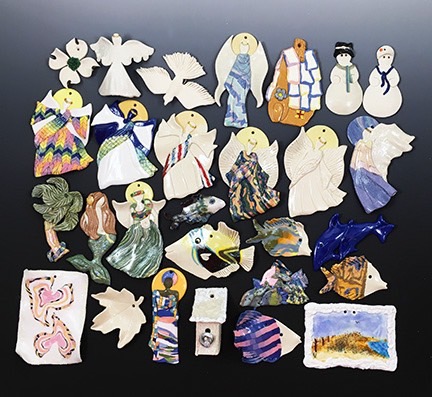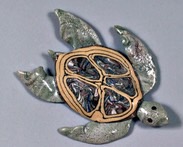 The only one I do not have in my personal collection is a turtle which is totally amazing considering how many of these I made over the years for resorts in Hawaii and the Caribbean.
The Re-cycled Bird House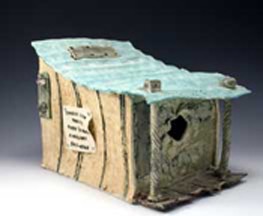 These featured trompe l'oeil surfaces mimicking the look and feel of wood, plastic, paper and metal. All the birdhouses were made from colored porcelain.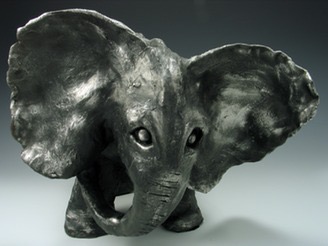 Every once in a while, I make a group of elephants! They are blackened through reduction in a raku kiln.
Italian Villa 
This  series of villas were made for use in the garden  They could be easily candle lit for splendid night time effects.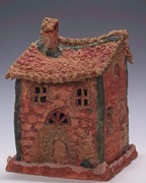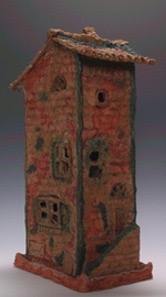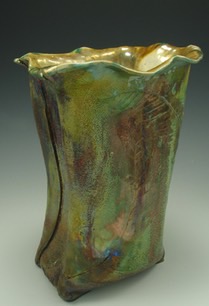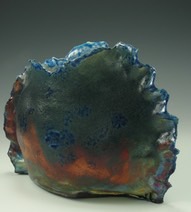 RAKU 
For several years I enjoyed the excitement of Raku firing. The wide range of results and the unpredictability of the process is definitely addictive.
The biggest event for me in 2005 was the introduction of Southern Ice Porcelain from Australia to the USA. It is the whitest and most translucent clay body I have used. The colors popped in vibrant patterns. The feel of the finished object was satin smooth. These are some of my first pieces made from this porcelain.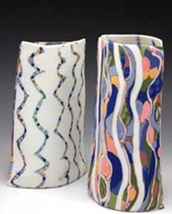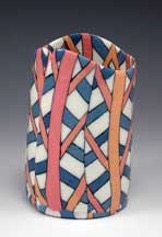 I call these my "Diva" dishes. Diva because Southern Ice is gorgeous but extremely temperamental  This set was specially  designed for the Dinnerworks Show of 2006 in Louisville, KY.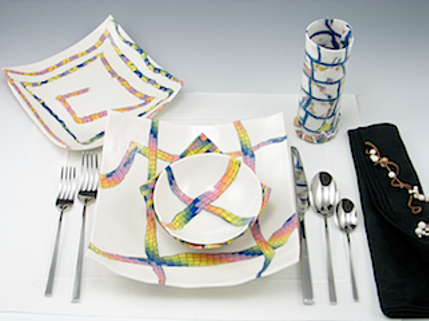 If you would like to see how these dishes were made, follow this link.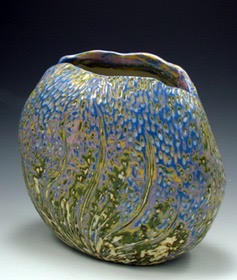 This lovely vase was created by carving through multiple layers of colored slip.
I began to test the limits of my porcelain through various inclusions and firing techniques. I pushed it to crack and warp hoping to get the quest for perfect surfaces out of my system ... and it worked!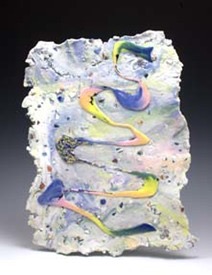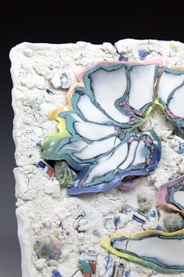 If you would like to see how these designs are created, follow this link.

My work in 2012 involved converting the polymer clay technique called "The Skinner Blend" for use with our earthen clays. The results so far have been extremely exciting. It is so simple to create multiple colors that the work becomes livelier and more immediate.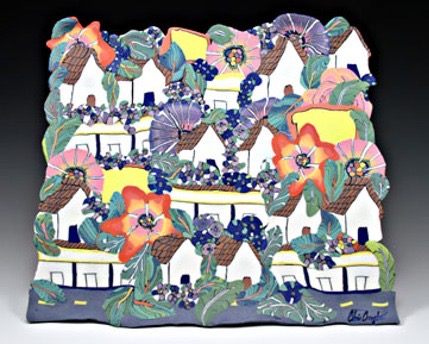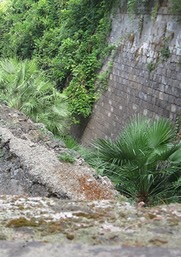 "Notice what you notice …"
I started to explore layers after noticing how often I was often shooting images of layers.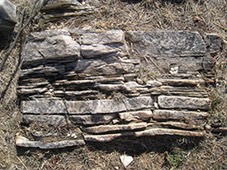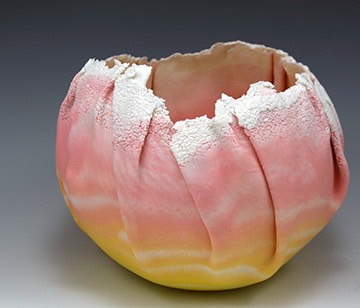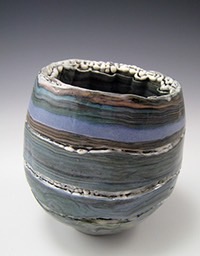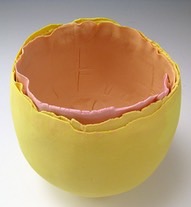 A year  exploring underwater and the beauty of sea life on my reefs.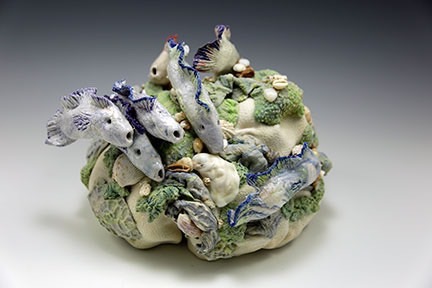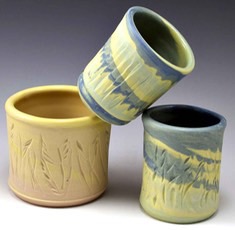 This is what colored clay looks like when you throw it without adding any white clay to the mix.
I wanted to find out what would happen if I intentionally placed color in a ball of white clay.
So, I experimented with "Intentional Color Placement".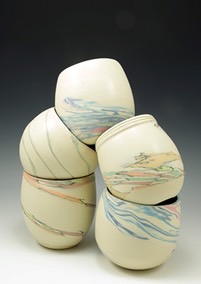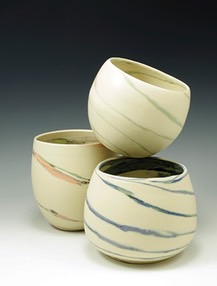 CHRIS CAMPBELL - the BIO in words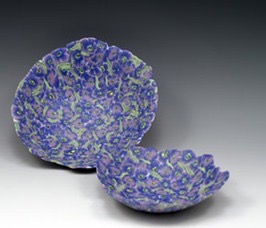 Chris Campbell has been a Studio Potter in Raleigh, North Carolina since 1991.  Born in Canada, she attended Ryerson College in Toronto, . She worked in oils and water color before she discovered pottery.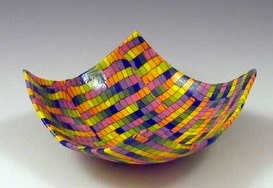 In 1991 she attended a colored porcelain workshop taught by Jane Pieser, a famous Colored Clay Artist. She was captivated by the process and has spent the years since then experimenting with colors and patterns while defining her own style. Her main body of work is created using the Nerikomi(e) process.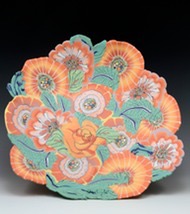 She uses her adaptation of the Skinner Blend technique to create her color palette.  The intuitive ease and simplicity of this process broadens the scope of colored clay so it can become more immediate, fluid and dynamic.
Over the years, Chris has studied design theory, surface treatments and firing techniques with such well known clay artists as Kathy Triplett, Rimas VisGirda, Linda Arbuckle, Steve Howell, Ben Owen III, Lana Wilson, Pete Pinell, Vince Pitelka, Ro Mead and Cynthia Bringle.
Her beautiful artwork is sold in fine Galleries across the United States. Her artwork is included in many fine private and public collections including the SAS Institute, North Carolina State University and Clayworks Australia, the manufacturers of Southern Ice Porcelain.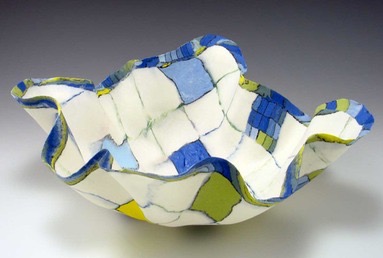 ARTIST STATEMENT
There is nothing else that fascinates and challenges me as much as colored porcelain. I still have not come close to trying everything I want to do. There is always another question, another idea and a larger challenge.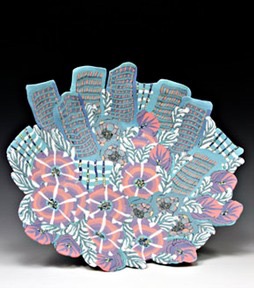 "My Artwork is strengthened by a thriving global pottery community. 
In the isolation of a studio, an artist can begin to feel like an island, but in truth we are all part of archipelagoes; chains of islands loosely connected by a stream of information that enriches our Artwork."
EDUCATION
Business Administration, Ryerson College, Toronto, Canada
POTTERY EDUCATION
Colored Porcelain – Jane Pieser, Penland, North Carolina 
Line and Surface – Rimas VisGirda, Champaign, Illinois 
Hand built forms – Kathy Triplett, North Carolina 
Surface Decoration – Linda Arbuckle, University of Florida 
Surface Considerations – Lana Wilson, Del Mar, California 
Designs for Function – Pete Pinnell, Lincoln, Nebraska 
Wood firing – Ben Owen III, Seagrove, North Carolina 
Hand building Tricks– Vince Pitelka, Smithville, Tennessee 
Surface Treatments – Steve Howell, Gainesville, Florida 
Colored Porcelain Tiles – Ro Mead, Colorado 
Functional Wares – Cynthia Bringle, Penland, North Carolina
ELECTED OFFICES
2008 - 20012 Executive Board of Potters Council
2009 - 2011 President of Potters Council 
2011 - 2012 - Past President of Potters Council
COLLECTIONS
SAS Institute, Raleigh, North Carolina 
North Carolina State University, Raleigh, North Carolina 
Clayworks, Melbourne, Australia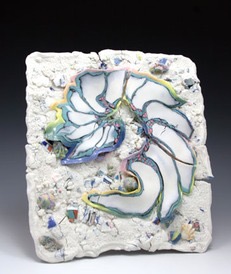 SHOWS
"DINNERWORKS" 2006 - Louisville Kentucky
"RALEIGH, NC" Little Art Gallery, Raleigh NC 
 "PORCELAIN - 12 CONTEMPORARY MASTERS" - Mudfire, Atlanta GA 
"DINNERWARE SHOW" - Gallery Frank, Chapel Hill, NC
"20 POTTERS, 20 TEACHERS" - The Arts Center, Rocky Mount NC
"GREEN" - Potters Council Juried Show 2013, NCECA Houston
"HANDBUILT" Claymakers Gallery, Durham, NC
WRITINGS
"Beyond Agateware" Pottery Making Illustrated Mar/Apr 2017
"Coloured Clay" Ceramic Review, May 2013

"Smooth Color Blends" Pottery Making Illustrated, January 2013
"The NC Potters Conference" Ceramics Art & Perception Technical #35
Coloured Clay" Ceramics Art & Perception Technical, November 2012
"Down to Business" Pottery Making Illustrated Magazine, 2001-2004
"The Culture of Success" Crafts Business Magazine March/April 2005 
" The Gallery Shuffle" Clay Times Magazine January/February 2005 
" Colored Clay Possibilities" Clay Times November/December 2003 
" Quick and Easy Stamps" Pottery Making Illustrated May/June 2002 
" A Colored Clay Project" Pottery Making Illustrated - Summer 2000
" Textures are Everywhere" Pottery Making Illustrated Summer 1999
PRESENTATIONS
NCECA 2007, "Studio Potters – Sharing the Dream" Panelist
NCECA 2008  "Marketing your Pottery to Galleries", Topical Discussion
NCECA 2012 "On the Edge of Success", Topical Discussion
NCECA 2013 "Focus your Energy on Success", NCECA Connection
JUROR

"Transcending Material" Potters Council Juried Show 2014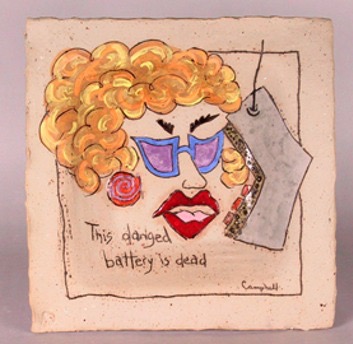 IF YOU WOULD LIKE TO LEARN MORE ABOUT COLORING CLAY, ASK YOUR FAVORITE ART CENTER TO SPONSOR MY WORKSHOP.